Tuesday, January 6th, 2015 at 1:54 pm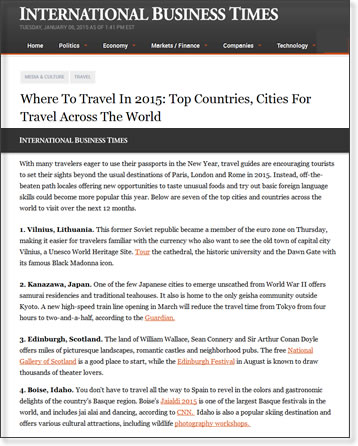 Boise, Idaho is listed number 4 in an International Business Times article by Cristina Silva. She suggests that this year instead of the usual tourist destinations of Paris, London and Rome you consider visiting one of more of these seven top cities and countries.
Vilnius, Lithuania
Kanazawa, Japan,
Edinburgh, Scotland,
Boise, Idaho,
Cartagena, Colombia
Montevideo, Uruguay
Atacama Desert, Chile
Travel guides are encouraging people to travel to off-the-beaten path locales which offer new opportunities to taste unusual foods and try out basic foreign language skills.
" Boise, Idaho. You don't have to travel all the way to Spain to revel in the colors and gastronomic delights of the country's Basque region. Boise's Jaialdi 2015 is one of the largest Basque festivals in the world, and includes jai alai and dancing, according to CNN.  Idaho is also a popular skiing destination and offers various cultural attractions, including wildlife photography workshops.  "