Homes Millennials Buy
Monday, December 15th, 2014 at 3:49 pm
Special Studies, December 1, 2014
By Natalia Siniavskaia, Ph.D.
Economics and Housing Policy
National Association of Home Builders
Report available to the public as a courtesy of HousingEconomics.com 
According to the 2013 American Housing Survey (AHS), one out of three households who moved and bought a home in the previous two years were millennials. Being the youngest home buyers with little or no accumulated wealth affects how millennials shop and buy their homes, often for the first time. This article examines the 2013 AHS data and looks at what homes millennials bought over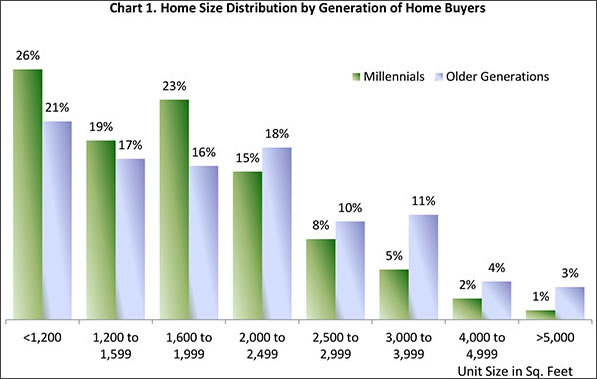 the previous two years, how they financed their purchases, what motivated them to move and how they chose homes and neighborhoods.
Among other findings, the article reports that:
Three out of four millennial home buyers are first-time buyers.
Compared to older generations of buyers, they are less likely to buy a new home but more likely to buy a condominium.
Homes purchased by millennials tend to be older, smaller and less expensive. Half of all homes purchased by millennials averaged less than 1,650 square feet of living space and cost less than $148,500.
The most common reason for moving reported by millennial home buyers is to establish their own household, followed by the desire to have a larger unit and own it.
When choosing a particular home, millennials are more likely to let financial reasons influence their choice, while older generations consider the right size most often.
When selecting a new neighborhood, the right house most often influences the decision for both millennial and older home buyers. However, millennials are more likely to also pay attention to proximity to work and having good schools.
Compared to older generations of home buyers, millennials are more likely to finance home purchases out of current income rather than out of accumulated wealth, and when taking out mortgages they are more likely to use unconventional zero-down mortgages.
---
Filed under: Boise Real Estate • Home Buyer/Seller Tidbits
Like this post? Subscribe to my RSS feed and get loads more!