Boise Regional REALTORS® May 2021 Market Report
Wednesday, June 30th, 2021 at 1:17 pm
The real estate market has taken us all on a wild ride for the last year and a half, and here are some facts and figures helping us to make sense of it. Boise Realtor, Cristina Pescaru, shares the May 2021 Market Report for Ada County, Elmore County, Gem County, and Canyon County.
ADA COUNTY'S MEDIAN SALES PRICE PASSED THE $500,000-MARK IN MAY
The median sales price for homes in Ada County reached a new record of $523,250 in May, up 8.7% compared to April 2021. Crossing this threshold may have been anticipated by some, considering the recent report from realtor.com shared by the Idaho Statesman noting the Boise metro's price growth was the highest in the country over the past four years. Learn More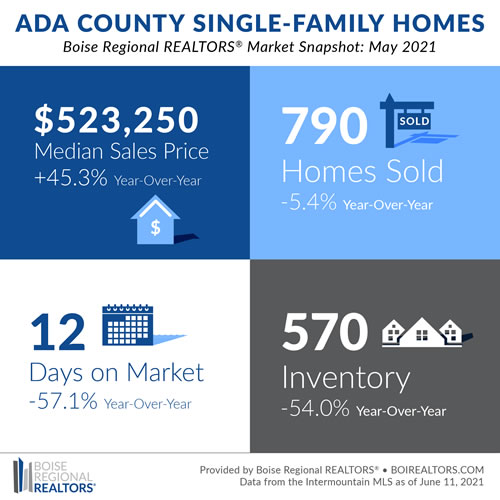 ELMORE COUNTY HOUSING MARKET UPDATE

Competitive market conditions continued in May as the average number of days between when a home was listed for sale and an offer was accepted dropped to a record eight days – five days faster than in April 2021. Not only did buyers pick up properties more quickly than ever before, nearly 70% of all home buyers who closed in May were willing to pay over list price. Learn More
GEM COUNTY HOUSING MARKET UPDATE

In May 2021, the median sales price for homes in Gem County reached $334,000, an increase of 1.1% compared to April 2021. Due to the smaller number of transactions that occur in the area, we use a rolling 12-month median sales price to get a better idea of the overall trends. In addition to the insufficient supply of available homes compared to demand, another factor putting upward pressure on prices was that more than half of all buyers paid over list price on homes that closed in May. Learn More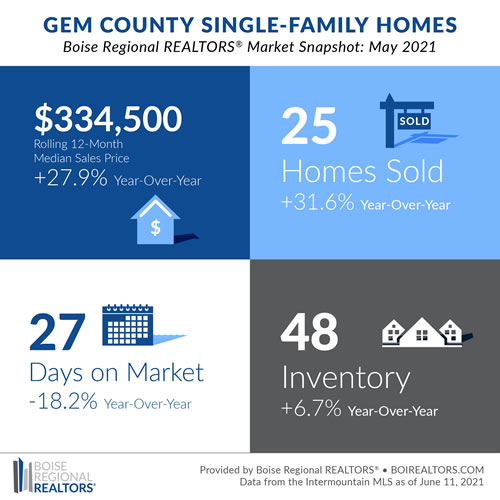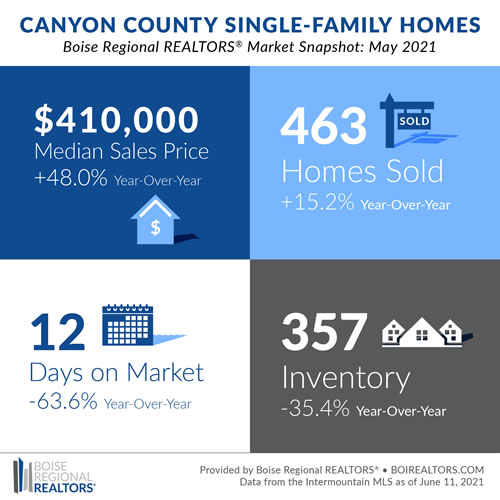 Tagged with: Ada • Boise • Canyon • Elmore • Gem • homes • market • price • realtor
Filed under: Boise Real Estate
Like this post? Subscribe to my RSS feed and get loads more!