Monday, January 8th, 2018 at 2:32 pm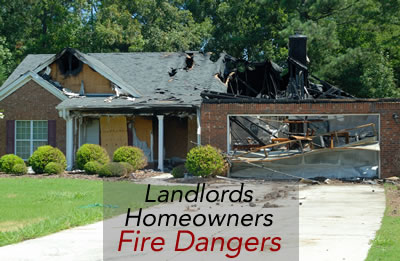 LANDLORDS; don't expect your property management company to babysit your property and tenants. They don't & won't. Be pro active. By the way~ have you personally seen & inspected your investment? You may be surprised at what your property really looks like inside & out. Be responsible.
HOMEOWNERS; you live in your home so be aware of how to protect your family, pets & property.
Baby It's Cold Outside! But before you get cozy by that warm toasty fire or get comfortable with that heater or pile of quilts read this checklist for possible dangers in your own home.
DANGER!
Fires can be caused by the following;
☆ creosote build up in chimney flue
☆ overhanging branches over outside chimney stack/flue
☆ not having fireproof woodstove floor extension or fireproof fireplace hearth
☆ no fireplace screen
☆ leaving open fires burning in fireplace unattended, overnight or for long periods of time w/o supervision
☆ space heaters that are not safety tested/approved
☆ smoking cigarettes in bed
☆ burning candles too near objects and leaving unattended
there are also many other causes for fire not listed.
The best course of action to prevent loss of life, money consuming disasters/fires is always being pro active.
Show you care~
Be aware!
Enjoy the warmth & comfort of your home & the cozy ambiance of that toasty fire with your loved ones.
If you want to save money on your next real estate sale or purchase, be sure to call Ava or Cristina your practical real estate consultants always looking out for your interests of you and your family.
Contact Boise Realtor, Ava Tong, to find your Boise, Idaho home.
Website: FindYourHomeinBoise.com
Facebook: facebook.com/FindYourHomeinBoise
Twitter: twitter.com/FindHomeinBoise
Contact Boise Realtor, Cristina Pescaru, to find your Boise, Idaho home.
Pledge to Clients: Experience * Loyalty * Commitment * Care
Website: FindYourHomeinBoise.com
Facebook: facebook.com/FindYourHomeinBoise
Twitter: twitter.com/FindHomeinBoise